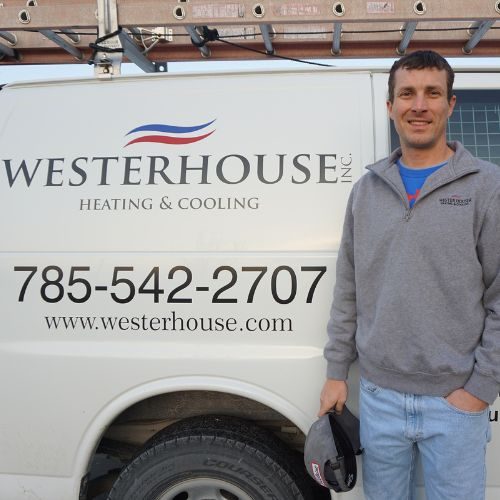 Aaron Westerhouse
Co-Owner
Aaron is married to Tara. They have 2 children and a yellow Lab named Lucy. Aaron grew up in Eudora, KS and attended Eudora High School, Labette Community College and Baker University. He likes baseball and cheers for KU, The Royals and The Chiefs.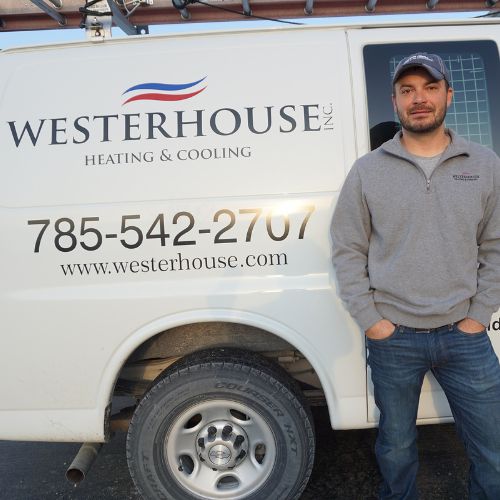 David Westerhouse
Co-Owner
David is married to Caitlyn. They have a 2 children and a dog named Hank. David grew up in Eudora and attended Eudora High School and Johnson County Community College. "The other employees are fun to be around and I like meeting and talking to customers. "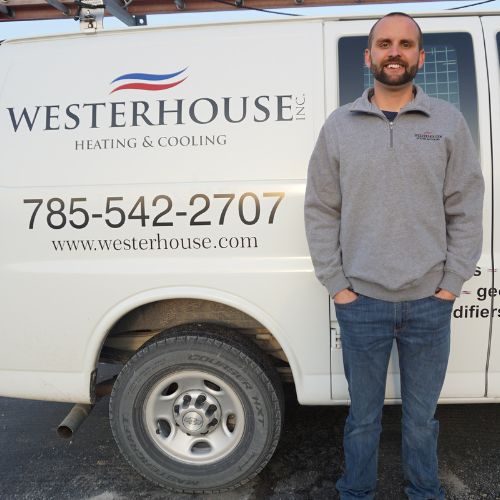 Jordan Ballock
Technician
Jordan is married to Shelby. They have 2 children. He grew up in Eudora and went to Eudora High School and Johnson County Community College. His favorite sports are basketball and football. He roots for KU, The Royals, The Chiefs and Creighton. " I enjoy being around the employees and meeting different customers each day. I am honest and hard working."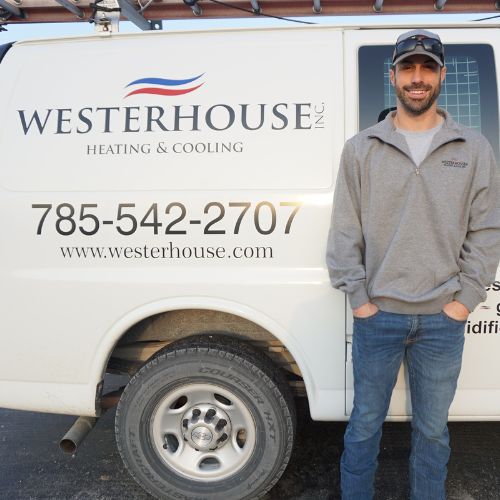 Chris Bray
Technician
Chris is married to Jessica. They have 3 children and 2 dogs. He grew up in DeSoto, KS and went to high school there. His favorite sport is soccer and he cheers for The Chiefs. "What I like best about working with Westerhouse is the atmosphere and the camaraderie of the people I work with. "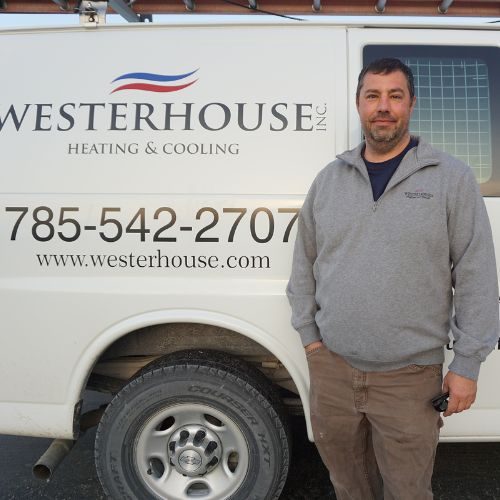 James Cahill
Technician
James is married to Melanie. They have a 4-year old son and a cat named Bud. James grew up in Massachusetts and attended Rhode Island Tech. He likes Road Racing. "I have great co-workers and a great boss. I like being able to be a craftsman with my work."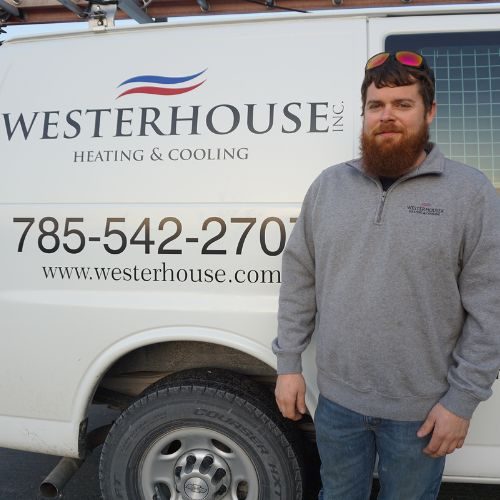 Cameron Humiston
HVAC Technician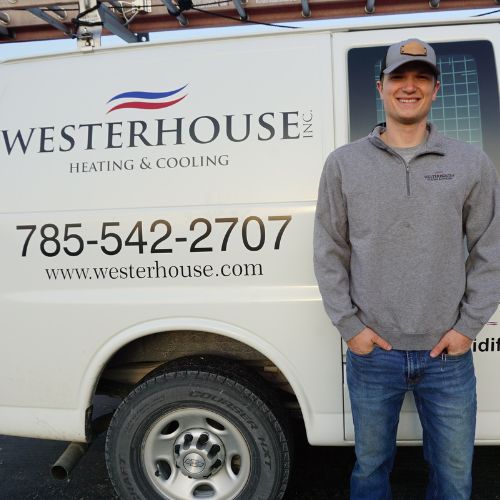 Tanner Mendel
Technician
Tanner is married to Alex and they have 3 children. They also care for a dog and 4 fish. Tanner attended local Eudora schools and is a Chiefs fan. "Westerhouse is a great working environment with great co-workers."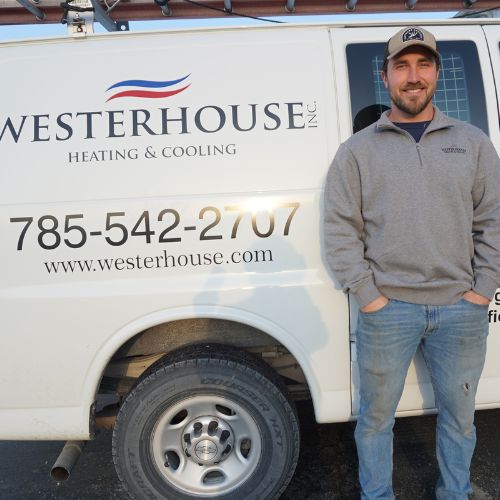 Riley Sheahan
Technician
Riley is married to Shyanne. They have three pets, a black lab a Dachshund and a rescue mix breed. Riley grew up in Pewaukee, Wisconsin. He entered the Marine Corps right after high school. He enjoys hunting and fishing and his favorite teams are the Green Bay Packers and Milwaukee Brewers. " I really like working with the awesome guys here at Westerhouse They care about our trade. I want customers to know I'm honest and a very hard-working person."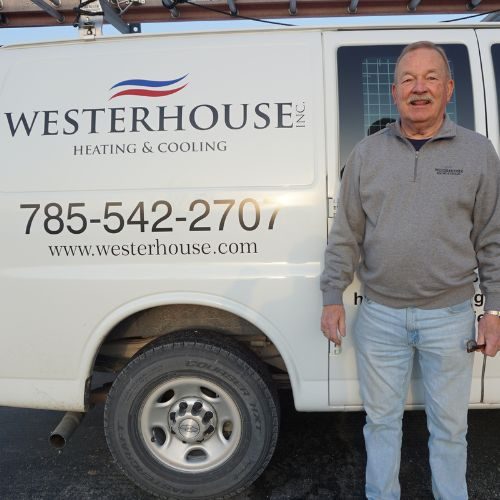 Joe Thompson
Sales
Joe has been in the heating and cooling industry for over 50 years (even though he doesn't look that old! Joe has 5 grandchildren that he is very proud of and they range in age from 10-17 years old. He grew up in Alabama and went to school at WSU. Joe cheers for the Chiefs, Sporting KC and KU. "I enjoy getting to know all the people I work with. They are a fantastic bunch!"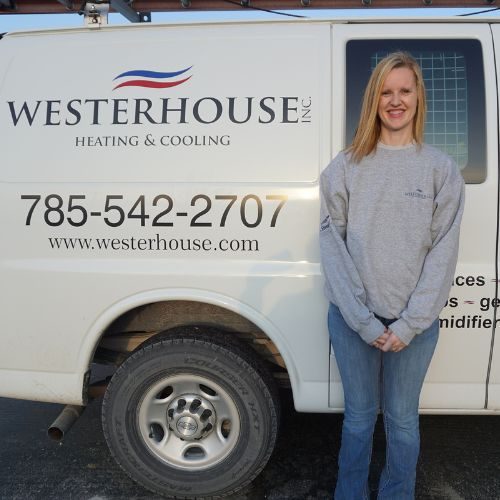 Theresa Mock
Office Manager
Theresa is married to Bryce. They have 3 children and 2 dogs. Theresa grew up in Eudora and attended Eudora High School and Ottawa University. She likes to play softball and played volleyball in college. "I like my co-workers and the owners at Westerhouse. Everyone is easy going and fun to be around. "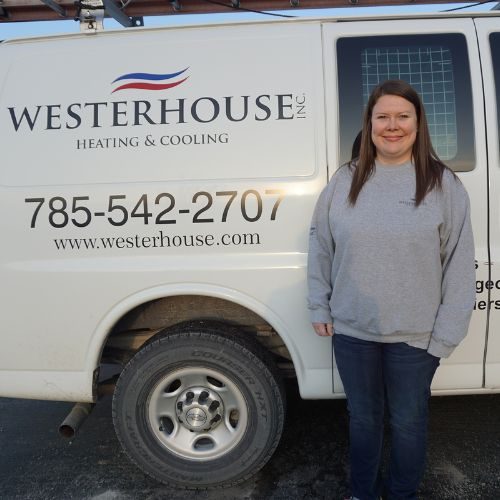 Alesha Hall
Asst. Office Manager
Alesha is married to Zach. They have two children. They also have a dog and three cats. Alesha grew up in Spring Hill, Kansas and graduated from Olathe South High School. She loves to camp and her favorite team is the Chiefs. When you get to know her you'll find she has a can-do attitude and a cheerful personality! "Everyone at Westerhouse is so friendly and I like that the office is close to home for me!"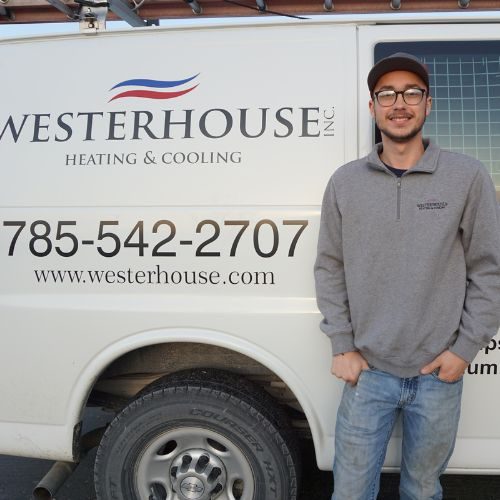 Caleb Gregory
Tech in Training
Caleb has a dog, grew up in Eudora, went to school in Eudora and likes to Trap Shoot.