When you want to do more
If you think installing an Air Scrubber air purifier has little to do with our Heating and Air Conditioning company, please keep reading. The Air Scrubber by Aerus attaches to the ductwork of your existing HVAC system to clean and deodorize the air you breathe. The Air Scrubber is one way you can defend against viruses in your home. The Air Scrubber uses state-of-the-art technology developed by NASA to create a safe environment for the astronauts in the international space station.
The Air Scrubber/ ActivePure technologies have been tested in a variety of settings and have been proven effective in reducing bacteria, viruses, and other pathogens on surfaces and in the air in university and laboratory tests. These tests have shown that ActivePure is effective against DNA and RNA viruses like these, Swine Flu (H1N1), Avian Bird Flu (H5N8), Hepatitis A (HAV), and MS2 bacteriophage.
Scientifically Proven to Clean and Purify
Have Westerhouse install the Air Scrubber with its proprietary lightwave and specialized catalytic process and 30 minutes later Airborne viruses are reduced 90% and 24 hours later 99% of surface contaminants are reduced. This equipment complies with EPA, FDA and OSHA regulations. It's been used not only at The International Space Station but at The Liberty Bell, Ground Zero Museum, Major League Baseball facilities, hospitals, schools, and international hotel brands.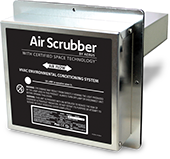 Protect, Purify, Clean, and Deodorize your air and surfaces
Fill out the form above or call Westerhouse today and save 40% on the installation of the Air Scrubber. If you are worried about the spread of viruses and getting sick, this is an additional way you can protect yourself at home from these airborne and surface germs and viruses.
(And it extends the life of your HVAC System. See, it has a lot to do with our Heating and Cooling company.)